Guide within facilities

In-facility guide map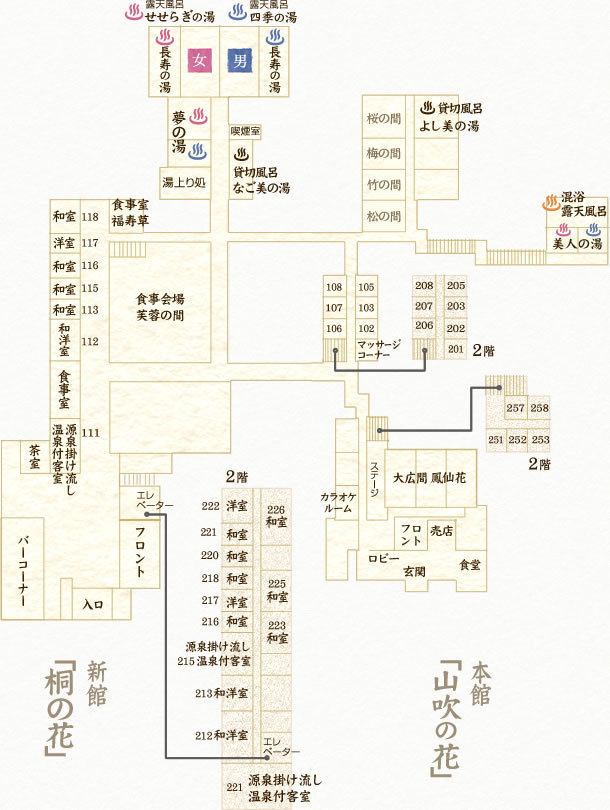 Introduction of facilities
Main Building, Japanese Kerria Flowers





The main building Japanese Kerria Flowers bustling with day-trip guests.At the entrance, a big side of a big Onikenbai will welcome you.There are versions of red, blue, white and three colors on the side, and we change the color of the face depending on the season.
The lobby can enjoy a spacious landscape with two large windows.
Please come and relax at the bath and take a rest.

■Please enjoy Semi Onsen specialty as a souvenir
In the shop, I sell confectionery of Iwate Prefecture, Kitakami City, the original Japanese sweets "The Four Seasons Of Semi" of the hotel and original sake.
Please make a memorial and souvenir.

New Building, Empress Tree Flowers





The lobby overflows with a large window that makes you feel unity with outside.In addition, the tea room also directs a sense of peace.We are planning various events using tea room and tatami lobby.Relax and unwind with the scenery of majestic Semi Gorge backdrop.

■Hospitality with tea
A breath in the lobby, please enjoy the view
Please check in at the relaxed atmosphere of Empress Tree Flowers.Getogawa River of the Getogawa River, clear air, you can enjoy the seasonal tree leave day relaxedly.

"Yu" boasts three different sources




"A Bijin-no-yu" that is friendly to the skin that is touted as a famous hot spring in Iwate.
You can enjoy three different sources of 100% fresh natural hot springs.
Three outdoor baths in the inner bath (one with male and female mixed bath).
The magnificent Semi mountain stream spreads in front of you.

Iwate nature felt in "food", "food"




Cooking using seasonal ingredients bred in rich nature.
Passion for local production, dishes of wild vegetables raised in the rich nature of Iwate, and fresh seafood directly from Sanriku.
Also, please enjoy the famous "Soba Misoyaki".

"Hiroshima", different taste rooms




In addition to the usual room, we are preparing guest room with source with sinking and Japanese + Western room.
Please select the room that suits your purpose
For group customers, "Japanese Kerria Flowers" is recommended because it can guide you at a more reasonable price.

"Seasons", The four seasons of Semi Onsen




The magnificent Semi mountain stream spreads in front of you.
Please enjoy the various seasons, various beautiful scenery, lodging in the mountains, spring, summer autumn and winter.
You can enjoy various beautiful scenery every season of "Geto Kogen Plateau Ide-yu Line".
From spring to summer, the surrounding mountains are colored green, autumn leaves in fall, covered with snow everywhere in winter, you can feel the change of the season with five senses.
【Facility details】
Number of rooms

37 rooms in total:3 Western-style rooms / 31 Japanese-style rooms / Japanese + Western rooms 3 rooms
Western-style breakdown:3 twin rooms(-)

Room supplement

14 square meters is basic for Japanese style rooms, and Western style rooms are twin.Japanese + Western style room, special room available

Standard room facilities

Some rooms Bathroom / All rooms Air conditioning / Television / Satellite TV / Empty refrigerator

Internet related

All rooms available
[Connection method]Wired LAN / Wireless LAN
[PC rental]No
[Internet connection]Free
Wireless LAN compatible throughout the building.

Amenities

Hand towel / toothbrush·Toothpaste / bath towel / shampoo / rinse / body soap / soap / yukata robe / hair dryer / duvet / shave / shower toilet / shower cap / cotton swab / comb·brush

Facility content

Hearth / Banquet room / Karaoke facility(Toll) / Non Smoking Room / Icemaker

Service & Leisure (including arrangement)

Room service / Massage(Toll) / Golf / Shogi(Toll) / Go(Toll) Mahjong(Toll)

Credit cards available locally

JCB / VISA / Master / UC / DC / NICOS

Standard check-in time

15:00

Standard checkout time

10:00

Onsen tax

Hotspring tax adult 150 yen separately.

Cancellation provisions

2 days ago:30% of room charge
1 day ago:50% of the room charge
On the day of arrival:100% of the accommodation fee
Cancellation without any contact:100% of the accommodation fee
※If there is a cancellation rule setting for each accommodation plan, that will be given priority.
【Three kinds of spirits of different interests, which are said to be Bijin-no-yu】
Hot Springs

Semi Onsen(Natural hot spring 100%) Hot Spring Baskdown ※It does not include artificial hot springs

Open Air Bath

Yes (There are also men and women (including time change) · Charges are not allowed)

Private Bath

There are 2 places(Conditioned)

Number of baths

"Outdoor bath] Man: 1 Female: 1 Mixed Bath: 1
[Inner bath] Man: 3 Female: 3 Mixed Bath: 0
[sauna] Man: 0 Female: 0 Mixed Bath: 0

Bath Terms of Use

From November 27, it will be unusable due to the Bijin-no-yu toilet renovation work.Please note.